The 2008 Round Britain Powerboat Race – GEE 185 Awards
Nokia prize winners 1st leg
Outstanding Sportsmanship trophies to John Guille and Nathan Ward
1st in Historic Class
Raymarine Spirit of the Event Trophy
The Classic Offshore Powerboat Owners Club Trophy
The UIM / RYA Spirit of Powerboat Racing 2008 to each individual crew member
Event Blog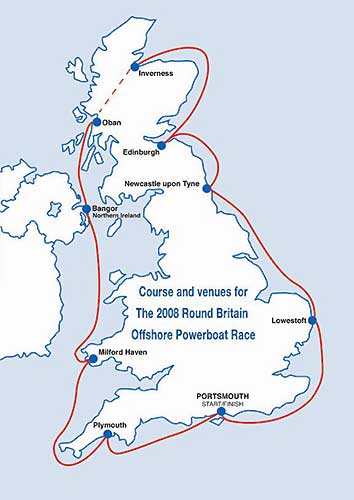 Portsmouth to Plymouth – Mark Clayton
"It's been a great race so far. We went through the Needles instead of going through the Sands, and met up with the German boat, Blue Marlin. We passed it but as we passed, they stopped. We thought they had engine trouble, but have found out since they actually sank and had to get in a life raft. Our run was very good and we got in at just after 2pm. Gee handled the rough weather very well, but we probably needed more weight in the front. We lost our trim tabs after the Needles, and need to get them sorted. There was heavy weather in places and a few times we were out of the water, with a few slams. But we've done brilliantly, and were first in by a few hours in front of anyone else in the Historic Class. There must have been only 10 boats in by time we came in. As head of our class, we got on the podium and won a prize. The start was incredible, and we had helicopters almost on our radar arch taking photos. There was a little bit of rain, and some spitting near the end. It was probably force 4-ish, but Gee held up and proved she's a great boat. We were there on the submarine barrier – they told us we must start there – and heard a thump, but fortunately we were ok. Quite an adventurous day with what was going on. But fantastic. Just fuelling up now."
Plymouth to Milford Haven – Cancelled! – John Guille
"It's actually been nice to get a bit of rest [due to the leg's cancellation]. It's been a bit hectic in the weeks up to the race, a bit of a rush to get Gee in the water. Yesterday was epic and this comes as a welcome break. We were all aware of the forecast, and they called a drivers' meeting at 7.30 am this morning, and reconvened 2 hours later, so finally at 9.30 am they explained we wouldn't be going. We had phoned ahead and had a trailer on standby, and at 9.30 am we put that into action. Of the 49 boats that started, only 39 were due to leave Plymouth, so 10 are out already. All the teams were phoning round for trailers. People are still there waiting for lorries to turn up. We're now en route to Milford Haven.
There was talk of some of the RIBs going round by sea first thing tomorrow morning, but now every single boat has gone up by trailer. Some teams have even leant their trailers to other teams to go back to Plymouth and pick up boats. The whole leg has been scrubbed from the total timing. We sourced some new trim rams today, and need to fit these tomorrow morning. Since Gee's on a trailer, it's a damn sight easier to put them on. We were ringing all around the country trying to find these rams, and eventually found them 500 yards from the boat. We've been debating all day whether tomorrow's leg will happen, or whether we should carry on taking the boat by road, but the weather is looking like it will die by midnight, so should only be 3s and 4s tomorrow. They've put the start back two hours to allow people to get up to Milford. Got a drivers' briefing at 8.45 am tomorrow."
Milford Haven to Bangor NI – John Guille
"We kicked off around 11am – they told us yesterday the race briefing would be delayed until 8.45am and the start to 10.45am. There was still quite a swell heading towards us as we headed out, but it got a lot better as we turned up the Irish Sea. We soon came across Andy Macateer's RIB – a big Buzzi Tecno 40 – so we stopped to see if they were ok. They had fuel problems, but they got going again. Then about 70 miles from the finish we had a call on the radio from Mystic Dragon, a Scorpion RIB carrying the RYA's powerboat manager, John Puddifoot. They had a problem. Macateer got to him first, and then we came upon them after the radio call and said we'd take him in tow.
He had one engine down, so we chugged along at 25 knots with him behind us. The conditions were just getting better and better all the way up the Irish Sea – nice sunshine, just relaxing. A couple of the guys were having a snooze. The tow will not really effect our time. They'll make an average of our speed before the tow, and work our what our pro rata finishing time would have been, and then add that to the total event time. So we won't lose out. Was just nice to be able to help someone as they'll be there to help you if you need it. Definitely earned ourselves a few drinks in the bar tonight. Weather is looking good for tomorrow, and we'll very soon be in the shelter of the Scottish islands.
We found out yesterday that we had damaged the props after kissing the submarine barrier in Portsmouth Harbour. They were a bit dented, but luckily because the boat was on a trailer we were able to straighten them. The engineer also did a good job fixing our trim tabs."
Position: Bangor, Northern Ireland
Leg: 201nm
Average speed: 35 knots before tow, 25 after.
Weather: Force 2s and 3s, further south residual waves from yesterday.
Bangor NI to Oban Scotland – Mark Clayton
I'm absolutely knackered. What a race, it was literally nail-biting all the way from the start. We mustered outside Bangor and the start boat let us all go at the same time. Off everyone went – 35 boats, I think. We went out to sea and 747 went inland to protect themselves from the chop. It was a moderate sea with 2-metre waves so we were going quite nicely. They were right on one side, but we lost sight of them for the first hour, but as we came closer to the islands, and were heading towards the Mull of Kintyre, we saw them a few hundred metres off us.
They then crossed to the other side to get into calmer water and we were neck and neck for the next two hours. We basically straightlined it to get an advantage. But unfortunately for Gee, it was too flat, like a millpond, and against 747 we're much better in a heavy sea. So we were neck and neck from there up into the islands. We were constantly looking to gain more speed, trimming up on our navigation and trying to find a finer line.
At one point there were two islands and they [Team 747] went one way and we went the other and we came out other side and still neck and neck. They were only 50 yards in front of us coming into Oban. It was a really good battle. We won the first leg, and came joint first in the third because they've decided that since we gave the tow that we'd get equal first. And that means we're still about an hour and a half ahead of the nearest team in our class.
Tomorrow we're going through the Caledonian Canal, starting at 7.30am in the morning. Through the lochs we can go flat out, and hopefully we'll arrive at Inverness at about 5.30pm. If possible, we're going to try and do some waterskiing behind Gee. Tomorrow's leg is just transportation, and not part of the race. And then Thursday is a lay day, so no racing. Everyone will be fixing their boats and doing final preparations for the difficult run down the North Sea. We may change our props. We've got the four-blade props on there at the moment, and the pitch wasn't quite right when we put her in the water."
Position: Oban, Scotland
Leg: 113nm
Average speed: 37.86 knots
Weather: Force 4 at the start, dying to Force 2 in the islands, and very flat towards the end
The Caledonian Canal – Mike Clark
"We got up about 4am yesterday at Oban, feeling a total lack of sleep after all the energy expended over the race so far. One way or another three of us managed to get the ferry from Oban to the island of Kerrera where the boat was moored. When we set off between the islands and the mainland up Loch Linnhe, the dawn just had an amazing aura about it. It was something I had never experienced before. There were hanging mists over the mountains and as it got lighter we saw some very brave or very stupid fishermen on the side of the loch.
As we cruised up the loch, we met up with the other boats in the Historic Class, and it was kind of good to be in among a pack of boats. But sadly we had some unfortunate news – Team 747, our main rivals in the class, hit their shafts on the way out of the marina, and that was a kind of a downer. We spent the rest of the day speculating and awaiting news of their plans. As of now, we understand that the shafts they damaged have been taken away and they'll work like heaven and earth to get up to Inverness for the start of the next leg to Edinburgh tomorrow morning.
We could have done without the 28 locks on the Caledonian Canal, but the good bits made up for all the time spent in them – especially when we got to the lochs. Loch Lochy was the first fast run and it was exhilarating. It was just nice to play a little. The race photographer joined Gee on the loch and consequently I had a dual role as skipper and running a floating photo studio. We had to chase around and get great video of all the other boats in our pack.
After leaving Loch Lochy we went through Fort Augustus, then into Loch Oich, which was a different ball game with a series of navigation buoys that gave us a great opportunity to slalom under the mist. The much awaited run across Loch Ness was just a complete wow. Everyone was overwhelmed to be skimming across this mass of inland water with boats passing us and crossing over us. It was rather like a waterborne version of the Red Arrows. The 20-mile crossing was over all too quickly but we had to make up time to get through to refuel.
On Gee there's some leaking from both rudder stocks. An inspection is needed of the stocks and rudders, as we heard a thump coming out of Loch Ness by the weir stream, which I suspect was a piece of waterlogged timber. The other problem we have to address is blown actuators on our trim tabs, and as I speak our engineer chief pilot are addressing this.
All members of the team are resting up today before the next challenge of Inverness to Edinburgh. Fingers crossed we're coming home."
Inverness to Edinburgh – John Guille
"Team 747 dinged their props and shafts on Wednesday when heading towards the Caledonian Canal, but managed to get new shafts and props all in 24 hours. They came to put it all in Yesreday evening, but the shafts would not line up for them. So they gave me a ring and myself and Nathan went down to give them a hand. Nathan found that their engine mounts were knackered, so we got them four new engine mounts from Cummins, and had to crane the engine out, swap the mounts over and put it all back in and realign the shafts. We finished up at 4.30 this morning. We were then up at about 6am.
The race finally started about 11am. Gee was going very well, although it was a little bit bumpy. Team 747 got in front, as they've got an hour and a half to catch up on us. We then happened upon them dead in the water. They had a lobster pot rope around a prop. Luckily we've got a diving suit on board and I jumped over the side. It was really easy to free the prop, but I got out of the water as soon as I could as it was bloody cold. Wish I'd bought my wetsuit now. Then we decided to go in convoy with 747 but the weather got worse. They headed inshore to get some shelter, but we stayed following our original course because it's a long long leg and fuel capacity was a worry. We got into Edinburgh at about 5.30pm. I'm feeling it a little bit, and so is Nathan. It's only a short trip to Newcastle tomorrow, which we start at around 10am."
Edinburgh to Newcastle
GEE finishes in 2nd place.
Newcastle to Lowestoft
Sustaining yesterday's position GEE finished 2nd again today from Newcastle to Lowestoft.
Lowestoft to Portsmouth – John Guille
"The leg started off at 8.30am, and it was petty calm so 747 pulled ahead, but we were flat out all the way – didn't want them to get too far ahead. Even though we had the overall lead, we wanted to make sure. It got a bit rougher as we got to the Thames Estuary and then round the corner at Ramsgate it really started to bump up a bit, and once past Dover it started to hit us on the nose. We had managed to fix our trim tabs by cutting up an old broom handle. We unscrewed the cylinder heads of the trim tabs, stuck a bit of wood from the broom in there to hold trim tabs down, so it was nice to get the bow down for once. It really helped the boat in the head sea.
We then managed to pull past 747 before Brighton – we just took a direct route, straight lining it across bays, while they hugged the coast. We maintained that lead all the way to the end. We finished about 20 minutes ahead of them in the end. The German guys hired a massive Sunseeker and he stuck all the number 99 on the side of it and he ran with us the last few miles, which was a nice touch. It was a good feeling coming into Portsmouth, the owners of Gee were really really excited. Just a nice feeling that we'd made it all the way round. Finally Gee has been round Britain (Gee was leading the first ever RB in 1969 but was forced to retire)."