From The Southern – Article: John Walker
In the sailing world, it is not unusual to find yachts built more than half a century ago that are still quartering the world's oceans to go racing. Our Mediterranean reciprocal, Yacht Club de Monaco's Tuiga from 1909, and perhaps most notably our Honorary Member, Johnny Caulcutt's Mariquita, which went down the ways in 1911, are fine examples, though in no way unique.
In the world of powerboats, however, it is much rarer to find examples of anything approaching similar vintage, think Turbinia, now all scrapped or consigned to museums or private collections – and virtually unknown to find younger if still venerable examples racing today.
One factor that unifies both fraternities of sail and power is that to keep a vintage vessel of any persuasion in commission requires regular and increasingly eye-watering dollops of money and as importantly, the love of their owners.
Boating was ever a people thing and this story revolves around those people who originally designed, built, raced, cruised and finally raced again in one of the best known offshore powerboats of our time; the classic Gee.
Modern offshore powerboat racing came into being in the mid-1950s, a pastime of the rich and famous, using boats that were often notoriously unfit for purpose.
When Max Aitken and his Daily Express newspaper brought offshore to the UK in 1961, using the tag line 'racing improves the breed', it immediately attracted an eclectic coterie of competitors drawn from industry, motor racing and the ranks of the independently wealthy gentlemen sportsmen.
One man who happily fitted all three of those categories was the Hon. Edward Gilbert Greenall, 3rd Baron Daresbury, born November 1928 into the 'beerage' and family brewery that became Greenall Whitley, educated at Eton and a man as close to the style of H.C.McNeile's fictional character Bulldog Drummond as one could find in a month of looking.
As with many young men of independent means and a sense of adventure, at the age of 22 Eddie Greenall took up motor racing and from 1950 piloted a succession of Astons, Bugattis, Coopers, Lolas and, finally, a Lotus Elise.
Enjoying varying degrees of success but setting a trend for his future afloat, he was always amongst the class leaders, before brewery business interests forced his retirement from the track at the end of the 1961 season.
By the mid-1960s, many of his motor racing peers had discovered offshore powerboat racing including Royal Southern Members Tommy Sopwith and Tim Powell, and together with Keith Schellenberg and Bill Shand-Kidd, their obvious enjoyment of the emerging sport may have encouraged the still restless Eddie to go afloat.
Thus, by the time of the 1966 Cowes-Torquay race, he had acquired a Donzi 28' with twin Chrysler petrol motors from the doyen of American designers, Jim Wynne, which he christened Gee and to which the RYA allocated the number 185.
Both name and number would accompany him throughout his powerboat racing career.
Of the 18 finishers from 40 starters, Eddie brought the Donzi home 15th, covering the 172nm in 8hrs 18mins to average 23.5mph in a race won by Wynne in Ghost Rider, a boat built in Cowes by W.A. Souter & Son.
In no way dispirited by his finishing position and modest average speed, he immediately sold the Donzi and placed an order with Wynne and Souter for a bigger boat, but why Wynne and why Souter?
Eddie was an observant man and had, throughout his competitive career, bought and raced machines that had design provenance and winning potential and it was no different now that he was a wet bob.
The unlikely association between the American designer and Cowes boatbuilder had begun several years before, when the Arctic Road yard had built some Wynne-designed circuit boats to race in the Paris 6-Hour marathon.
Wilf Souter and his brothers had refined a cold moulding building technique by fixing mahogany veneers over a mould by means of battens and staples, binding together the successive layers of wood with synthetic resin.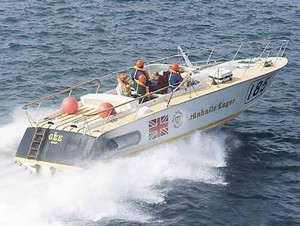 This proved ideal for one off constructions, giving an excellent strength to weight ratio. Proven in yachts and latterly, circuit boats, it was by accident that when in the early months of 1966 and with time running out, Wynne and his Miami sportsman patron, Hugh Doyle, could not get their new 28' offshore boat Ghost Rider built in America, they came to Souter and so began a remarkable collaboration.
What Eddie received from Wilf Souter in the summer of 1967 was a 40' long, 12'6" beam, cold-moulded cruiser with a reverse sheer transom, typical of Wynne's designs prior to the advent of transom-mounted sterndrives.
Powered by twin Cummins Indiana 480hp turbo-charged diesels on V-drives and shafts built like a brick outhouse, she would run at better than 50mph in almost any sea state likely to be encountered around the British Isles.
Racing only once that season, winning the Needles Trophy in Poole, but missing the Cowes-Torquay, this stately vessel was to give her owner, his second wife Molly and regular navigator, Sq Ldr Victor Linthune DFC, a mostly comfortable and often class-winning ride over the following five seasons, with victories or highly placed finishes in Needles Trophy, Guards International, Torbay International, Round The Island and Cowes-Torquay races.
If there was to be one disappointment during this reign it was in the 1969 Daily Telegraph; BP Round Britain Race. Quoted 3:1 in the prerace betting and lying 4th overall when the fleet left Inverness for Dundee on the sixth leg, in big seas and fog, she was leading the charge when, uncharacteristically, Gee lost all motive power and drifting onto a lee shore off Arbroath, was forced to retire, the only competitor of 41 starters forced to use any emergency service during the entire marathon race.
By 1969, Eddie Greenall had moved to Jersey and having sold Gee after the 1971 Cowes-Torquay-Cowes race, she ceased being a race boat and while he continued racing in a much bigger boat under the same name, she metamorphosed into life as a cruiser re-named Melodrama, a guise that would last for the following 37 years.
Her next three owners were all offshore powerboat racers and all had seen Gee in her pomp.
First was John Galliford who graduated from racing the wholly inappropriate R&W Clark built Michelle S cruiser, via Open Pleasure class, a misnomer if ever there was one, and finally Tommy Sopwith's 1970 Cowes-Torquay winner, Miss Enfield 2, with Ken Cassir.
Retaining her original Cummins motors but with a new raised coachroof to make her more comfortable below deck, Gee, now Melodrama, became their support boat, but within a year Galliford was concentrating on his growing building business and retired from racing and sold her on.
Second was Keith Dallas, who to this day is still a little hazy about how and why he acquired her after a very short acquaintance, but the boat tended to have that seductive effect on people.
He had progressed up the sport from racing an Avenger 21 in Class III to a Class II catamaran out of the emerging Cougar stable, powered by four Mercury outboards and successively branded Wiggins Teape and then Penthouse/Inver House/Rizla for his sponsors.
As a major racing representative and development driver for Mercury, when Dallas discovered that the Cummins engines he had inherited were in less than perfect condition, he approached Mercury Racing's supremo, Gary Garbrech, for suggestions.
Soon thereafter, Melodrama had been re-engined with two 454 cu.in. V8 Mercruiser inboards on her original V-drives.
With the possible exception of the occasion when, having consigned her to a yard in Poole to replace the original cork decks with teak, they allowed her to sink on a mooring, necessitating much remedial yard work and a full engine rebuild, there followed nine relatively trouble-free years of summer season cruising en famille in the Solent, West Country and Channel Islands before he too thought it right to move her on.
Third was Roger Bowley, an engineer and car dealer from the West Wight, who had raced in various classes and boats.
Dallas was asking £12,000 which seems ridiculously cheap today, but a deal was struck that included the exchange of money and a Maserati Merak.
Thereafter, Melodrama's new owner thought it sensible to have both Mercruisers re-built immediately, which may explain the asking price.
After using the boat around the Solent the engines began to show signs of wear and tear, and being the proud possessor of two 330hp Sabre diesels out of Derek Pobjoy's Sundancer, he oversaw a second change of engines.
It was in 1985, whilst lying at Eastlands Boatyard on the Hamble that Melodrama caught the eye of Thames shipyard owner John Bates.
Between 1946-1975, his family business, William Bates & Son, had built what its founder had described as luxury river and seagoing cruisers under the name Star Craft, some sold to private owners, some run as a hire fleet on the river and John had taken much pleasure in finding old boats and bringing them back to as-new condition.
Who better than a man brought up with the smell of Thames mud, glue and wood shavings in his nostrils to take ownership of the wooden classic.
Back at Chertsey, John, his shipwright, Terry Dann and great chum Mike Clark, went to work on Melodrama not once but twice during his ownership, rectifying the rot around the waterline and exhausts and generally 'minting' the by now elderly if still sprightly lady.
Richard Bates recalls that his father regarded all the time and money as a well-spent labour of love and having used the boat in the Solent, by 2003 it was back on the Thames, where Mike Clark gave it a regular weekly run out.
Enter property developer and now Royal Southern Member, Chris Clayton, Melodrama's sixth owner.
It was on one of these weekly outings that he first encountered her, after a long lunch at the Thames Court pub by Shepperton Lock.
Then he met Mike Clark en route back to the yard.
Attracted by her unusual lines, Clayton and Clark got talking and after discovering her history, it became apparent that she was available to purchase.
Thoroughly seduced, Clayton went back home and rarely given the opportunity to own such a rare and special craft, returned to Bates Wharf and negotiated the sale with Richard Bates.
Up to this point in his life it is fair to say that his nautical experience had been in much smaller boats on the Solent and in the Balearics.
As he said afterwards:
Melodrama replaced a racetuned jetski and even though it was 30 knots slower, it could handle any sea at 40 knots with a full crew on board.

We took her back from the Thames to the Solent, mooring her at Royal Clarence Yard in Gosport and after two seasons use, I decided to do some remedial works, which included the removal of 18 layers of paint to reveal her bare mahogany, overhaul of the Sabres and a revamped interior together with new deck fittings.
That refurbishment took 18 months and after reaching agreement with the Greenall family, Melodrama was re-hristened Gee and returned to her original livery.
Still moored in Gosport, she saw use in home waters and on cross-Channel passages, but in January 2008, Clayton noticed a headline in Motorboat & Yachting that the Round Britain Race was being re-run later that year and the germ of an idea formed.
What a 40th anniversary that would be to race Gee again after all those years in retirement, as she had done the first ever Round Britain Race in 1969.
There were a number of immediate hurdles to clear, notably who would crew the boat, what
engines to use and, most important, would the old girl handle the pounding? A call to Mike
Clark elicited the response that 'there was a very fine line between madness and stupidity', but he thought she would be up for it.
A rushed visit to the London Boat Show and a conversation with Cummins sales supremo, David Johnson, secured CMD QSB 480hp engines and race support, so it was just down to a quick survey to tick the last box.
By early March the boat was ashore in Swanwick and here, ex-Fairey man and surveyor, Bill Dunlop, brought a measure of harsh reality to the owner's infectious enthusiasm and any thoughts of removing the microwave and a few cushions to secure a quick and dirty re-fit were consigned to boxes marked 'pie' and 'sky'.
Dunlop insisted that the boat be stripped back to its bare hull, all the interior that had most recently been installed should come out and only then could he conduct a proper survey.
John Bates' shipwright, Terry Dann, did the necessary, Dunlop ticked the box and Gee could go racing again.
The official entry was lodged in the Historic Racing Class, whose nominal criteria were boats over 20 years of age and capable of 50 knots and just one problem remained; the boat was stripped bare and the start was looming two months ahead.
Almost by necessity, racing comes in two parts, a race to the start line and a race to the finish line and this was no different.
As the boat went under cover, a team including Roger Street from Cummins, ace painter Tony Preston, electronics
wizard Geoff Sargent, skipper John Guille and crew Nathan Ward and Biff Allen, all applied their not inconsiderable talents to the re-fit, whilst Clayton kept the financial wheels turning.
New shafts, rudders and propellers were procured, Raymarine provided a datalink system to monitor fuel consumption and engineering data via their E120 multi-function display and ST60 navigation instruments package, the QSB 5.9 litre turbo-diesels arrived on pallets from Cummins and the whole re-fit went ahead apace with a working budget of £150,000.
Eight weeks later, on 19th June and just 48 hours before the start, Gee went back afloat.
With the pressure easing a little, Chris Clayton commented:
This last two months has been a frantic race to go racing, but now we can see the Portsmouth start line it is all beginning to seem worthwhile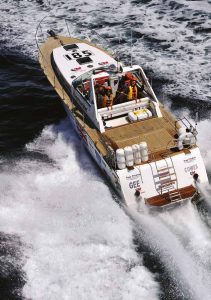 After nine days of remarkably trouble-free racing around the British coast in wildly differing conditions, many
of them most unpleasant, and a race-long duel with Team 747, a very quick Fairy Spearfish, Clayton and his crew brought his 40 year old charge home covering the 1,164nm course in an elapsed time of 34 hours, 17 minutes, 21 seconds to win the Historic Class.
Job done.
Well, not quite.
Since going round Britain in June 2008, Chris Clayton and his brothers have used Gee under the Royal Southern burgee in the UK, racing her in the 50th Cowes-Torquay-Cowes in 2010, before trucking her south to the Mediterranean where, based in Port Gallice on Cap d'Antibes, they have cruised her extensively on the
French and Italian coasts.
This year, visits to the Monaco Grand Prix and the Viareggio-Bastia offshore powerboat race festival where she will mix with historic Rivas and other classic race boats are on the cards, before returning to compete in the Cowes-Torquay-Cowes race, half a century after her first race outing in 1967.
Some boat. Some Birthday!